Laconia Bike Week 2021 – Chop Shop Pub Tent
Located at historic Weirs Beach in Guilford, NH, the Chop Shop Tent is hosting up to three bands daily starting Friday June 11th through the entirety of Bike Week ending on Saturday June 19th.  During these two weekends we will not be hosting live music at the Chop Shop Pub in Seabrook.
This is a very dynamic event, please understand all details subject to change as we accommodate artist availability and other details.  If you are interested in performing please contact Bill on Facebook messenger or email TheBoss@ChopShopPub.com.
Browse schedule and line-up with the two tabs to the right:
Chop Shop Pub hosts live music every weekend
Bands perform on our tented outdoor stage.  Guests can enjoy the show from either inside the restaurant (as the band plays towards the large windows in the front of the restaurant), or from outside in the tent. We are following all state safety policies to ensure our guests are comfortable. Come out to enjoy live music with us at the Chop Shop.
The

Chop Shop Pub

– your new home away from home pub

!
Stop by and say Hi to the Lil' Boss. . . She makes the Amazing Cocktails. . . 
"Support Venues that Support Live Music"
There is Something Going on Everyday at the Chop Shop…

We have the
BEST LIVE BANDS

every Weekend!!!
Support Venues that Support Live Local Music!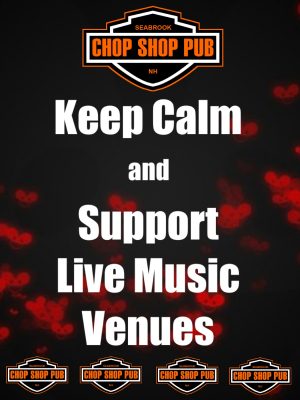 Stop by and try our Award Winning Food we Open at Noon
We have so many Fun things going on at the Chop Shop Pub
The Chop Shop has the Hottest Bands every Weekend our NEW OUTDOOR STAGE…  
With that being said we are looking to add some NEW talent to our 2020 line up!!!
The Chop Shop Pub Supports our Military & Veterans…Thank you for your Service
We would like to put a Huge thank you out to our Chop Shop Family & Customers for everything you have done to Support the Toys for Tots program over the last 10 years. It is Amazing how when we asked for help how you all responded,  from Toys to bikes to clothing the Chop Shop looked like a Toy Factory up until days before Christmas… With the help of the Chop Shop Elves we were able to package up everything and we were able to help 1000's of  kids!!!  Thank you to the following Businesses for your support with Toys for Tots over the last few years:  Five Below Seabrook NH, Service Credit Union, Phantom Fireworks, NH1 Motorplex, Staples N. Andover MA, J. Michaels Family Sports Pub Windham NH, Walmart Seabrook NH, Dollar General Raymond NH, Stitch's Garage Old School Pin Striping